History and Missions
Sextant is a marine and coastal Geographic Data Infrastructure (GDI) that aims to document, disseminate and promote a catalogue of data relating to the marine environment. For Ifremer's laboratories and partners, as well as national and European actors working in the marine and coastal field, Sextant provides tools to promote and facilitate the archiving, consultation and availability of this geographical data.
The first version of Sextant dates from 2001 and was exclusively for internal use of the institute. In 2005, the tool was opened to Ifremer's partners and to general public in 2007. Since then, the successive evolutions of Sextant and the technologies used have always been part of the implementation of the INSPIRE Directive and now make it possible to follow the Open Data approach.

A Multithematic Infrastructure
The geographical data present on Sextant derives from the research projects and scientific works at both Ifremer and its partner laboratories. This thematic data is aggregated and finalised, and some of it becomes benchmark data.
Marine Themes :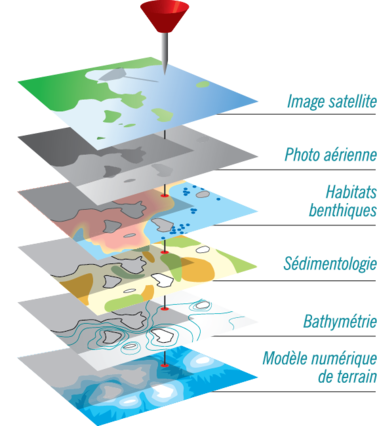 Satellite, aerial and acoustic imaging
the physical environment : bathymetry, sedimentology, morphology, hydrodynamics, climatology
the biological environment : remarkable habitats, benthic populations, marine mammals, fisheries management, biogeochemistry, microbiology
human use and activity : Commercial fishing, aquaculture, maritime navigation, tourism and sailing, surveillance networks
regulatory data : zones Natura 2000, Znieff, OSPAR, etc.
administrative boarders at sea : exclusive economic area, FAO areas, ICES statistical rectangles, etc.
An Infrastructure with Many Diverse Partners and Projects
Sextant meets the needs of different projects from the regional level to an international scale, including overseas territories:
European Projects: Emodnet, Copernicus, Seadatanet, Charm
French national projects: Marine Strategy Framework Directive (MSFD), Marine aggregate, Renewable Marine Energy Planning, Water Framework Directive (WFD)
Regional Projects: Rebent, Medbenth, Ogive Agil
Projects in Overseas Territories: Indian Ocean, New Caledonia, French West Indies
Metadata management and data access are carried out by the catalogue administrators. This decentralized organization allows for dissemination and sharing that may be restricted to an identified user community.
Sextant functions
Compliant with the standards of the International Organization for Standardization (ISO) and the Open Geospatial Consortium (OGC), Sextant is a system that offers three data access services. Metadata is always at the centre of the system and it is the link between the various services.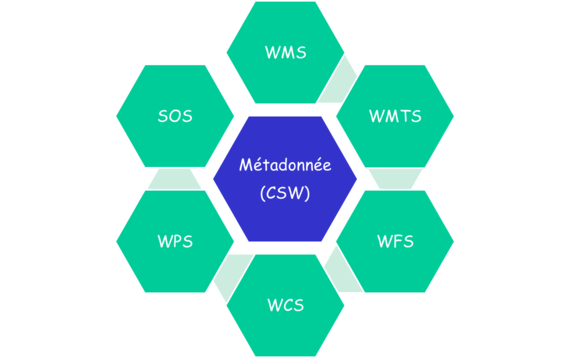 Metadata catalogue : Search data
A catalogue in compliance with Inspire Directive, ISO standards and CSW - from OGC - protocol
Map : View data
Data display via the OGC's WMS protocol
Basket: Download data
Data made available via OGC's WFS and WCS protocols
Begin by exploring the metadata catalogue and then go on to view and/or download the data.
Access to data is generated directly by the data provider according to three levels of accessibility: 1) the metadata alone is accessible; 2) the data is visible via Geoviewer; 3) the data is available to download. These three accessibility levels of information can be limited to a specific group (by personal identification and password protection), or can be entirely accessible to the general public.
Certifications and affiliations
Ifremer/SISMER is designated as national oceanographic data center (NODC) by the international organization IODE and as certified repository by the CoreTrustSeal organization.
In addition, Sextant contributes to the Information System for the Marine Environment (SIMM) and to the ODATIS Ocean Cluster.